Guilt Free Glitter: How Lab-Grown Diamonds are Changing the Jewelry Industry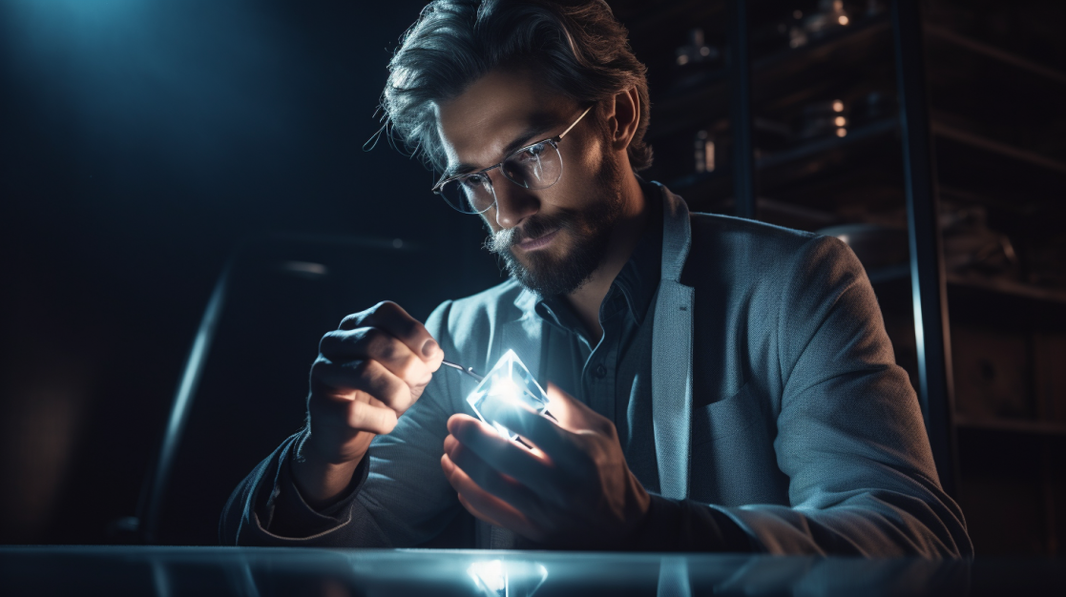 In the sparkling world of jewelry, diamonds have long been referred to as the ultimate symbol of elegance and luxury. However, the traditional diamond mining industry has been under scrutiny for years due to environmental and socio-economic issues. Enter the game-changer: lab-grown diamonds. These guilt-free glimmers of joy offer an ethically sourced, cost-effective, and environmentally friendly alternative, challenging the norms of the jewelry industry like never before. This article unravels the fascinating world of lab-grown diamonds, their creation process, their impact on the traditional diamond market, and what the future holds for them.
The Problem with Traditional Diamond Mining
Lab-grown diamonds are real diamonds, with the same physical and chemical properties of their natural counterparts. They aren't synthetic or simulated alternatives, but rather true diamonds grown in a laboratory setting by replicating the conditions found deep beneath the earth's surface. The scientific processed to create these gemstones is both complex and fascinating, designed to encourage rapid crystal growth. This is in stark contrast to the natural creation process, which takes millions of years.
Diamond mining has presented many environmental and social challenges throughout its long history. Traditional diamond mining operations pose serious risks to human health and the environment, including air pollution, water contamination, destruction of ecosystems, displacement of local communities, and unsafe working conditions for miners. These problems have been exacerbated by the sheer remoteness of many diamond-rich regions, making it difficult for governments to monitor and regulate the industry. As a result, traditional diamond mining operations have come under intense scrutiny in recent decades, with many countries taking steps to ensure that the negative impacts are minimized or eliminated altogether.
Originating in a controlled environment, it is clear that lab-grown diamonds offer an ethical alternative to traditional diamond mining, with significant environmental and economic advantages relative to natural stones. With their ever-growing popularity, they are likely to remain a key player in the jewelry industry for years to come, bringing more sustainability and responsibility to an otherwise troubled sector.
The Advantages of Lab-Grown Diamonds
As more and more consumers are becoming aware of the environmental and socio-economic issues associated with traditional diamond mining, they are increasingly turning to lab-grown diamonds as a responsible alternative. Lab-grown diamonds offer an ethical solution, without the need for environmentally damaging extraction methods or exploitative labor practices.
Additionally, lab-grown diamonds are often less expensive than natural diamonds, making them a cost-effective option for those looking to add sparkle to their life without breaking the bank. Lab-grown diamonds are also transforming the traditional diamond market, with many high-end jewelry retailers now offering lab-grown versions of classic designs. This is opening up the industry to a whole new demographic of customers who may not have otherwise had access to luxury jewelry. Due to a combination of greater affordability and environmental benefits, it's likely that lab diamonds will become an increasingly popular option in the coming years.
As consumers become more aware of the impact that their buying choices can have on the planet, ethical sourcing is becoming a priority for many. This may make the decision to choose lab over natural an easy one. From sparkling solitaires to glimmering engagement rings, lab-grown diamonds can offer a great alternative to consumers wishing to add a touch of luxury and elegance to their jewelry collection without the guilt. Furthermore, with their increasingly widespread availability and affordability, you can now find lab diamonds to fit almost any budget. card with the watch.
The Process of Creating Lab-Grown Diamonds
Creating lab-grown diamonds is a complicated, multi-step process that typically involves two main techniques: High Pressure High Temperature (HPHT) and Chemical Vapor Deposition (CVD). The duration of both methods can vary from a few days to months depending on the size and quality of the diamond being produced. While the specifics of each method vary depending on the producer, both involve recreating the intense heat and pressure of natural diamond formation in a laboratory setting.
The HPHT process is the more traditional method, involving a small carbon seed being placed in a press that generates temperatures up to 1600 degrees celsius and pressures up to 870,000 pounds per square inch. The carbon is melted and squeezed into a diamond shape. HPHT can produce diamonds relatively quickly, especially when larger seeds are used. The growth rate can be faster than CVD under the right conditions.
The CVD process, on the other hand, is more modern and involves the creation of a diamond seed in a vacuum chamber filled with gases made from hydrocarbon molecules such as methane or ethylene. When heated, these gases break down and deposit their carbon atoms onto the diamond seed. The result is a thin layer of carbon that is then built up atom by atom until it forms into a diamond crystal. Producing a 1 carat diamond using the CVD method generally takes a month or more.
Regardless of how they are produced, all lab-grown diamonds go through rigorous quality checks before being certified by industry leading certifying bodies. With advancements in technology, they can now be produced quickly and safely with indistinguishable qualities from their mined counterparts.
Conclusion
In the world of jewelry, diamonds have always held a special allure, representing timeless elegance and unmatched beauty. Yet, the shadow of ethical and environmental concerns has long loomed over the traditional diamond industry. Lab-grown diamonds emerge as a beacon of hope, offering not just a sustainable and ethical alternative, but also a testament to human ingenuity and innovation. As we stand at the crossroads of tradition and progress, it's evident that lab-grown diamonds are not just a fleeting trend, but a transformative force reshaping the contours of luxury. As the jewelry industry continues to evolve, one can't help but wonder: what other innovations await on the horizon? One thing is certain, the future of diamonds is not just bright—it's brilliant.